The latest casualty in the claimed "transformative restructuring" of Independent Newspapers is Bongani Fani, who has delivered Cape Times and Argus titles from Lakeside to Kalk Bay for more than 20 years. A resident of Masiphumelele and father of four, Mr Fani received a "Termination of subscription delivery contract" letter from "PG Rhoda, Circulation and Distribution Manager" last month.
This article was updated on 10 February, in the morning, with Independent's response.
In four sentences, the letter, on which his name was wrongly spelled, informed Mr Fani that he had 30 days notice that expires on Thursday, 12 February. This came as he faced the prospect of having to find school fees and expenses to help his children, two of whom entered matric this year.
Shortly after receiving this notice, Mr Fani travelled to the city to the offices of Independent Newspapers, seeking an explanation. He was told that Mr Rhoda was busy and could not see him. Besides, everything necessary was contained in the letter.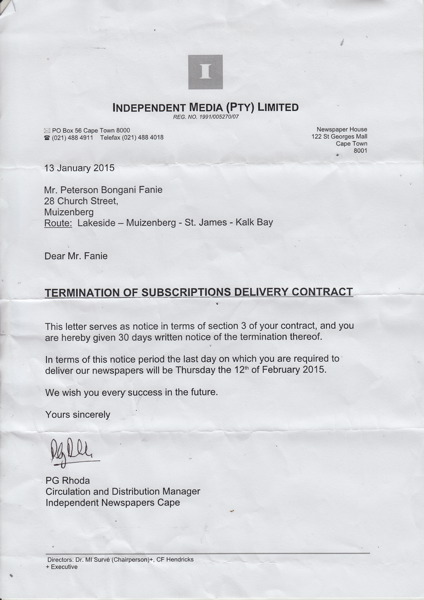 Independent Media's letter to Bongani Fani. Note that the letter spells Mr Fani's name incorrectly.
The letter makes reference to "section 3 of your contract". However, Mr Fani maintains that he was never given a copy of any contract. In any event, he worked seven days a week delivering newspapers throughout the year, which meant that he was, by any definition, employed full time by Independent Newspapers.
He began delivering the Cape Times and Argus titles by bicycle in the Lakeside area of the southern suburbs in 1992, also doing "relief work" in Muizenberg and Kalk Bay. In 1997, when the takeover of the Argus Group by the Ireland-based Independent Group was completed, distribution staff were apparently paid off. Mr Fani recalls that he was then told that if he had a car, he could take on deliveries from Lakeside to Kalk Bay. He spent his R8,000 package on a car and continued these rounds until this week.
In the process Bongani Fani became friendly with many of the subscribers to the various newspapers in the group. Some, who have had subscriptions to the Cape Times and/or Argus remember him from his bicycle delivery days.
Subscribers in the area, some of whom have already telephoned their protests to Independent Newspapers are currently putting together a letter to the Independent management in support of Mr Fani. At the same time, a local lawyer, acting pro bono, has filed papers with the newspaper bargaining council in terms of the Commission for Conciliation Mediation Arbitration.
Several attempts were made to get comment from Independent. We were informed that Peter Rhoda had no comment to make. No one else from Independent responded to our queries.
This article was originally published as opinion, but we have revised it to news. Additional reportage by GroundUp.
---
Independent Media responds:
Independent Media would like to place on record its strongest contempt for the ongoing campaign by disgruntled former columnist, Terry Bell, to tarnish the name and reputation of Independent Media.
Writing for GroundUp, Mr Bell told the story of Mr Bongani Fani, an independent contractor delivering Independent Newspaper titles in the Lakeside/Muizenberg area, whom he alleges, was summarily dismissed by Independent Media for no reason.
The story is problematic for several reasons as it obfuscates a number of facts. We are not at liberty to fully disclose the precise reasons for the termination of Mr Fani's contract, as the matter will be heard at the industry's Statutory Council. It must be noted, however, that Mr Fani is an independent contractor to Independent Media and not an employee.
We are able to confirm that the issues are not as straightforward as they purport to be in the story. Complaints of poor service from subscribers in the Lakeside/ Muizenberg area over a period of time, as well as very serious claims from subscribers in relation to Mr Fani's conduct, are some of the issues that have resulted in the termination of his contract. The decision to terminate the contract was not taken lightly, given the nature of Mr Fani's personal circumstances.
It is important that we note that the writer of the article, Mr Bell, is a former columnist for Independent Media. Mr Bell lodged a matter with the industry's Statutory Council and subsequently the Press Ombudsman's office against Independent Media in 2014, which he lost. We thus question his motives for highlighting this particular matter. More importantly, we note with utter contempt Mr Bell's unashamed strategy to toy with the livelihood of Mr Fani in order to advance his personal campaign against Independent Media. The fact that he is seeking support for his campaign by involving various media platforms is mischievous.
We have no record of him seeking Independent Media's comment when writing his article on Mr Fani, which goes against basic journalistic integrity and ethics as prescribed in the South African Press Code under clauses 2.1 and 2.2. For example, Mr Bell reports that Mr Fani does not have a copy of a contract. We do, however, have a copy of a contract signed by Mr Fani, in which the terms of his contract are clearly stipulated.
Independent Media intends to lodge a complaint against Mr Bell with the Press Ombudsman.