Zimbabweans fund raise for young and old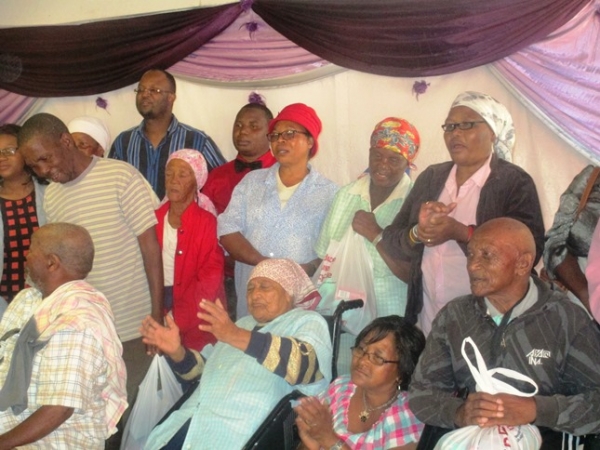 It is better to give than to receive. Say no to xenophobia and say yes to assisting and uplifting your community. These were the sentiments of Zimbabwean business people in Cape Town. On Sunday in Muizenberg, they sponsored a charity fundraising event for Marinatha Home for the Elderly and the Mother's Love Educare crèche in Capricorn.
A Zimbabwean manager at a Debonairs in Strand, Sam Gumbojena, pledged to donate 35 loaves of bread once a week to the Marinatha centre through the company's social responsibility programme.
The founder of Marinatha for the elderly and the Mother's Love Educare crèche is Edmore Mazungunye, a 27-years-old for Zimbabwean and former teacher from Midlands State University, Zimbabwe.
Mazungunye said, "As an educator it touched my heart to always see children roaming the streets of Capricorn because their parents could not afford to send them to surrounding pre-schools. In 2011, I decided to provide them with quality education at a lesser fees of R250 per month. Today the crèche has 40 children and three teachers."
In 2013, Mazungunye registered Marinatha as a not for profit organisation. He said he was moved to establish the home because the elderly were neglected by their community and not treated with respect. He even saw elderly people sometimes pushed in the soup kitchen queues by youths. Then there was the case of a 64-year-old man found dead in his home days after he had passed away.
Mazungunye has trained more than 200 home-based caregivers since 2013. The current class of 30 students is this year's last crop. Before they are placed at institutions, they volunteer at Marinatha. Some are placed at Douglas Marie and at Sunside Lodge in Plumstead. They clean homes and help the elderly adhere to their medication regimens.
He said they co-operated with the Department of Social Development and surrounding clinics.
The home is still in need of medical equipment, microwaves and fridges.
The elderly people attending the fundraising were given food parcels. Donated clothes and blankets will be distributed to them as well.
One of the elderly, wheelchair bound Magrieta De Wee, aged 73, said she had been staying in Capricorn for 20 years. She says, "I am grateful to Mazungunye and Marinatha volunteers. They are always helpful and nice to me. They move me around when I am doing my errands and house chores."
Directly after the event, Julius Shamu, CEO of Shamtone Productions and president of the Zimbabwe South Africa Chamber of Commerce, who organised the fundraiser and handed out the food parcels, was attacked and robbed of his cellphone by two men.
© 2016 GroundUp.
This article is licensed under a
Creative Commons Attribution-NoDerivatives 4.0 International License
.