Waiting for hours in tax queues
| Johnnie Isaac, Joyce Xi and Thembela Ntongana
News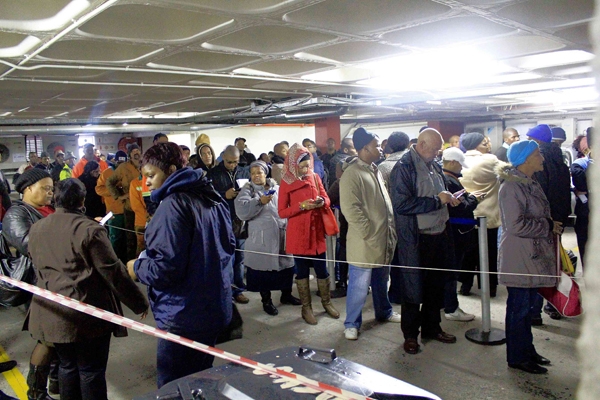 Filing income tax manually at a South African Revenue Service (SARS) branch can be a day's mission, involving hours of travel and standing in a queue.
Several taxpayers at the SARS office in Long Street, Cape Town, told GroundUp that they must either take a day off from work or work a half day in order to file their tax returns.
Due to the long lines, Siyabulela Zathu, 43, was unable to file his tax returns on his first try. "I was there for four hours yesterday and gave up because the line was too long and I had to go somewhere," he said.
SARS has two branches in Cape Town, one in the CBD and another in Bellville. Doors open at 7am and close at 4pm, but customer service continues until all the people who are inside when the doors close are served.
According to SARS staff, each branch deals with 2,000 to 3,000 taxpayers per day during tax season. A SARS staff member said, "We leave when everybody has been helped, between 8 and 9pm."
SARS says only one percent of the population still queues to file tax returns. "Over 99% of income tax returns are filed electronically," said Marika Muller, a Deputy Spokesperson for SARS. Muller said, "A taxpayer who has a straightforward query and has brought all the correct documents with them should not wait more than an hour on average."
But a security guard who works at the Bellville branch said, "Queues start as early as four in the morning here. By the time doors open at seven there is already a long queue."
A queue marshal at SARS Cape Town told GroundUp that people come from as far as Saldanha Bay and even the Northern Cape to file their tax returns.
A new SARS branch is planned to open at Mitchell's Plain. Muller said, "The intention is to make SARS services more accessible to the community, hopefully reducing waiting times for the taxpayers and relieving pressure on existing SARS branches."
Muller said SARS is doing all it can to direct people to eFiling because, he admits, it is quicker and more convenient than going into a SARS branch.
She said, "The SARS Education, Outreach and Communications teams do a lot of work around making taxpayers comfortable with the eFiling option. Last year we also introduced the 'Help You eFile' programme, which allows you to get telephonic guidance from a SARS consultant while you complete your tax return on the eFiling system."
Zandile Mabindla, who works as a secretary for a school has opted for eFiling. She said, "It's more convenient than going to queue. I only go to SARS if there's something that I'm not sure about."
Still, there were taxpayers that GroundUp spoke to at the Long Street branch who had never heard of eFiling. Others did not have access to internet. Several taxpayers had heard of electronic filing, but they still preferred to go to a branch in person because they didn't know how exactly to file their taxes online, or preferred the assurance of doing so in person.
Sithembile Ngubenkomo, 34, and George Orayn, 50, said they knew about the online service but didn't know how to use it.
Christie Baatjies, 62, from Hanover saw an advertisement for eFiling on TV, but was not convinced that it was more convenient than waiting in the queue.
Anelisa Khondlo, 21, from Khayelitsha, said, "I know I can do it online but its better to come here, because I can ask questions that I can't ask over the internet."
Lazola Manzana, 35, from Mitchell's Plain knows that he can file his taxes online but still chooses to wait in the queue. "I don't trust it online," he said.
Given the long queues, it is evident there are still many taxpayers who for various reasons file their taxes in person.
© 2016 GroundUp.
This article is licensed under a
Creative Commons Attribution-NoDerivatives 4.0 International License
.