Tsunami residents pressure state to move them to new land
| Nombulelo Damba-HendrikMasixole Feni
News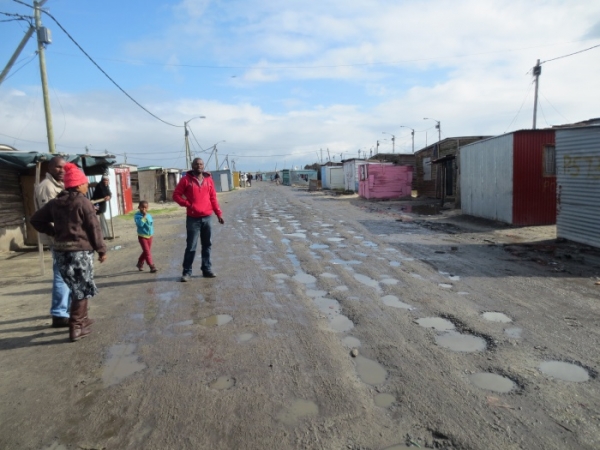 Tsunami Informal Settlement near Delft in Cape Town is a severely deprived area. Residents have been expecting to be moved to a better area, but it appears their hopes have been dashed.
Tsunami has about 1,700 shacks. The blue portable toilets serve about eight families each. There are also some permanent flush toilets but these are all blocked. A few other flush toilets are half-built and abandoned. Many residents have to relieve themselves in bushes. There are no drains to throw dirty water. Residents used to use illegal electric connections from street lights before Eskom cut all the wires.
In December Zongezile Madolo, a single parent, lost his eight-year-old son to a fire. His younger son, Madolo, is still recovering from the fire in Tygerberg Hospital. "I can not take him home, because we live in this small shack. It's cold and wet. I was happy when City [of Cape Town] officials told us that they are planning to move us to Forrest Village," he said. Forrest Village is nearby and drier. Many Tsunami residents are keen to move there.
Madolo said he was at one of the portable toilets when his shack caught fire because of an illegal electric connection. "The toilet was a few metres away from my shack. What was supposed to be a good festive holiday turned into something that I cannot describe," he said.
Community leader Kwanele Mcaleni said people are being robbed on their way to bushes. He said the bushes are dangerous especially for kids as they have to cross the busy Symphony Way road.
Residents say that for the past eight years, they have been living in an area with no basic services. They blame the provincial and City administrations for this. On Thursday they marched to the provincial administration offices in Wale Street, calling on the province to move them to dry land.
Some of the residents of Tsunami are intended recipients of the state housing programme known as the N2 Gateway Project. The province is intending to move them into houses in Delft. However, many of the residents occupied the land, and they will not be moved as part of the programme. This was made clear to Tsunami's community leaders in a letter handed to them yesterday (Thursday 2 July) at the offices of MEC of Human Settlements, Bonginkosi Madikizela.
Tsunami is what the state calls a Temporary Relocation Area, which as the name implies is a place where people are temporarily housed before being moved to a permanent area. Tsunami was originally supposed to be a cemetary.
The City's Mayoral Committee Member for Human Settlements, Councillor Benedicta van Minnen told GroundUp that the Western Cape Government has communicated that relocation to Forest Village is not an option.
"When the previous residents who were living in this area became beneficiaries of the N2 Gateway project, the structures in the Tsunami area were not removed. This resulted in new people illegally occupying these structures," she said.
However residents said the City knew all of this before they promised to move them to Forest Village. Mcaleni told GroundUp that community leaders had several meetings with City officials promising to move them to dry land, but, he claims, these have not been kept. They had been expecting to be moved before this winter.
In response, Van Minnen said the City must ensure that it protects a fair and equitable system of housing delivery and prevents queue-jumping.
"It must be remembered that there are many people in the surrounding areas who have been waiting for housing opportunities for much longer than those who are currently occupying that land. The City is in continual engagement with the Western Cape Government to look at the options for the broader area," she said.
She added that on 17 June the City met with the community to discuss the situation at Tsunami, and other issues relating to Forest Village were also raised at the meeting by the community.
Madikizela's office said the City has indicated it will take responsibility to accommodate the non-N2 Gateway residents living in Tsunami, not the province, and that the City is still investigating suitable sites for relocation.
But Mcaleni said this is not the answer they expected, however they will take the response to residents and let them decide the way forward.
© 2016 GroundUp.
This article is licensed under a
Creative Commons Attribution-NoDerivatives 4.0 International License
.