Struggle for disabled people to use Cape Town's transport
| Nkosikhona SwartbooiAndiswa Hala
News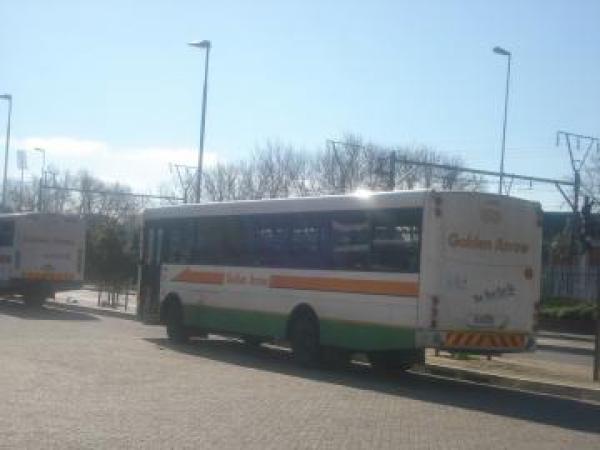 On Monday Cape Town bus drivers ended their strike after 25 days. They had asked for a wage increase of 18% but settled for a preliminary increase of 9.5% which will increase to 10% from October. What does the strike reveal about how poor people get around in Cape Town, particularly for disabled people?
The drivers' strike has affected many customers of the Golden Arrow bus service. Poor people from the townships, who struggle to get other means of transport that they can afford, were particularly affected. But most affected were disabled people.
GroundUp spoke to Noroyi Lusu, who is disabled and walks on crutches. She said she struggled to use public transport during the bus strike. Usually she uses Golden Arrow to go to work every day. She said that she prefers travelling by bus because it is easier for her to use with her crutches, although there are still many ways their services for disabled people could be improved.
While the strike was on, she had no choice but to go to work by minibus taxi, which for her is very expensive. Travelling to and from town from Khayelitsha or surrounding areas by bus costs more than R400 a month, while the train costs R155 a month. By contrast, travelling by minibus taxi costs more than R800 a month.
She says that disabled people complain about how difficult it is to use taxis, because the taxi drivers don't have patience with disabled people and they are rude and they don't try to assist them. Many taxis are not in a state for disabled people to use, especially for people in wheelchairs. Most taxis don't have the space to put the wheelchair aside, she said. Usually, people in wheelchairs have to wait for a suitable taxi that has space to put the wheelchair inside.
During the strike, most of the disabled people she knew used trains to get to work because the taxis are very expensive, but although the trains are affordable they are also dangerous. They are always full and people are pushing each other to get inside the train and disabled people mostly struggle when they have to use the steps to get to the train, she said. She also said that most disabled people have to wait till afternoon or when the trains are not full.
"We did try and approach the government as disabled people and went to the Department of Transport. We asked the government to find ways of changing public transport to accommodate disabled people. We also told government that we don't want a different transport for disabled people; we just want a transport system where everyone is accommodated," she said.
Ms James, from the community organisation Disabled People of South Africa (DPSA), agreed that disabled people struggle with public transport. She thinks the government is not doing anything about fixing this issue. She also said that sometimes, when the government organises events for the community, the transport they provide does not accommodate disabled people.
On its website, the City of Cape Town acknowledges that there are many problems with the accessibility of public transport, particularly with trains. One of the benefits of the MyCity BRT system for poor communities is that the buses and the bus stops are designed to be fully accessible. This is one more reason that poor people should be paying close attention to events affecting public transport.
Nkosikhona Swartbooi and Andiswa Hala are Fellows at Ndifuna Ukwazi.
© 2016 GroundUp.
This article is licensed under a
Creative Commons Attribution-NoDerivatives 4.0 International License
.