Somali businessmen share their acumen with locals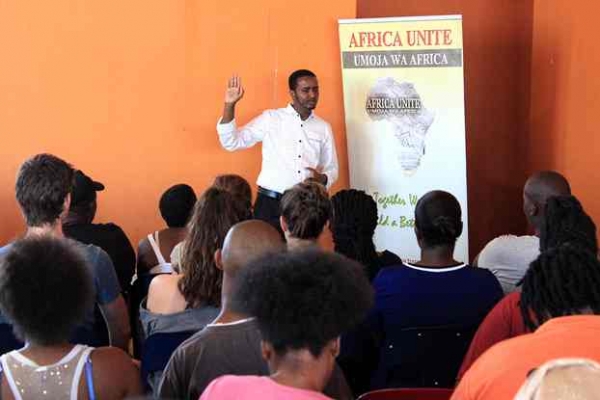 Abdikadir Mohamed, the Western Cape Chairman of the Somali Association South Africa (SASA), responded to South African business people who accuse Somali owned businesses of questionable practices at a business skills sharing workshop held at Vuyiseka Secondary School in Philippi this week.
The workshop host, Africa Unite (AU), is a 'human rights and youth empowerment organisation that works with citizens, refugees and migrants to prevent conflicts, enhance social cohesion, and promote socio-economic development.' It was 'formed in 2001 in response to violence against asylum seekers, refugees and migrants in New Crossroads, Nyanga, a sprawling, impoverished, predominantly black township on the outskirts of Cape Town.'
Africa Unite youth coordinator Brilliant Nyambi said that in 2014 they held three similar workshops in Gugulethu and one in Langa.
The workshop facilitated by SASA chairman on Tuesday was the first one to be held this year. SASA intends to do more business skills workshops in different communities. The objective is to share skills, raise awareness of refugees' struggles and promote cultural integration.
During the question and answer session, a local business man, Mzondi Mbaliswuana, said people in his community think Somali businesses are questionable. He asked Mohamed to answer three burning questions. He said the community wanted answers and did not believe he was telling the whole story.
The three questions were:
Is it true that you do not start up your business from scratch, but have faceless people backing you to sustain your business? For instance, there are Muslim business people supporting you?

Are you working with white capitalists? If not, why does Philippi Cash and Carry wholesalers give credit to Somalis and not to South Africans?

Why do immigrants possess illegal firearms as reported in the media during the Soweto violence?
In response, Mohamed said, "Business does not know colour. If a white person sees potential in me and is willing to help, why would I not take the opportunity? Locals are the ones who should be benefitting more because the Philippi Cash and Carry you mentioned is owned by a South African. It's true they used to give credit to Somalis, but it is because they had developed a good relationship. The Cash and Carry owner had realised their businesses are successful, and he was also making profit from them because they had become regular customers. When they lost everything they had worked for, including business fridges during the xenophobic violence, they looked at their history and were willing to give them credit."
"There are no faceless people working with Somalis. Somalis are focussed, hard working and know how to serve. They do not eat capital. That is the only way to sustain a business."
On immigrants possessing illegal firearms, he said, immigrants were not angels; they also broke the law, just like South Africans. "The law should take its course; it's not for us to judge, it's up to the government."
Mohamed stressed that the only thing they get from government is asylum papers and refugee status, and he dismissed all the rumours that Somalis get grants from the United Nations High Commissioner for Refugees.

A South African businessman, Mzondi Mbaliswuana says people in his community think Somali businesses are questionable. Photo Masixole Feni.
The SASA chairman was a minor of 17 when he fled war-torn Somalia.
Pointing at a map, he said, "I need to explain why I left my family and came from that far country. In 1991, civil war broke out and the Somali Armed Forces began engaging various armed rebel groups. Elections in my country were last held in the 1980s."
When he arrived he worked for another Somali in Port Elizabeth earning R1,500 a month. He worked from 5am to 10pm. There was no time for luxury; he was saving his money. From his salary he only subtracted money to pay for air time to phone home and tell his parents that he was safe.
After a few years, he had saved R25,000 and put his money together with three other Somalis who put in R15,000 and R20,000 to open a shop in a container. After nine months, they bought a bakkie and hired a retired South African to drive them while they were attending driving school.
He advised participants to soldier on and look for a location near a transport hub when starting a business. He said a spaza shop is different from a supermarket like Shoprite. Even if customers are short on money sometimes, one should be friendly and help them. Stock such as bread, milk and sugar brought small profits but moved quickly. On a very hot day, it was unforgivable to run out of things such as ice cream. Saying 'I do not have' is not good for business. The shop should always be stocked with important items such as sanitary wear. If a commodity has been on the shelf for more than three months, it shows it does not sell, so the next time the shop owner should avoid buying it.
Mohamed said running a business required discipline and focus. Discipline meant restricting oneself from pleasure, waking up early, working hard, and serving customers till 10pm.
He said, "Let's work together. I am a black person. I am poor. I ran away from war … When you see Somalis in your community be nice. Talk to them in language they understand. We should not blame each other. It's a challenge for us to open bank accounts or access loans, but you can easily have them. Utilise those opportunities."
© 2016 GroundUp.
This article is licensed under a
Creative Commons Attribution-NoDerivatives 4.0 International License
.