Lwandle residents to move to new SANRAL-owned land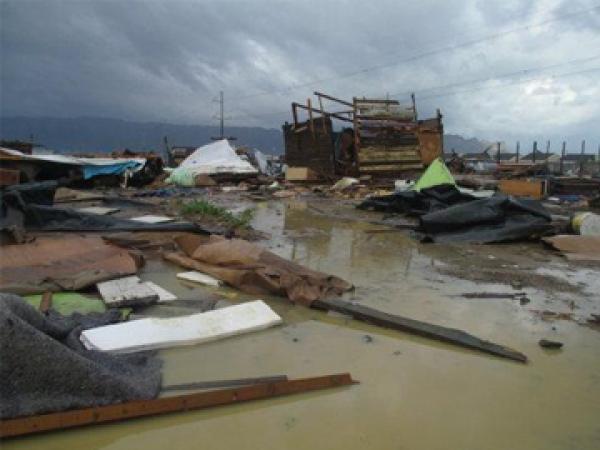 Hundreds of Lwandle residents whose homes were demolished earlier this week will be moved to new SANRAL-owned land next week.
This comes as Human Settlements Minister Lindiwe Sisulu yesterday announced that a ministerial task team has been established in a bid to resolve the matter.
SANRAL has also offered to purchase another piece of land where residents will be relocated permanently to in several months time.
Following talks with Sisulu and community members on Wednesday evening, ward councillor Mbuyiselo Matha said the City of Cape Town's Disaster Risk Management would be delivering building materials like wood and zinc sheets for residents this morning.
"People are expected to move back to the land soon. SANRAL will be clearing the land of the old materials and we are expecting the building material also to arrive [on Friday]," Matha said yesterday.
Matha said the City and the Departments of Human Settlements and Home Affairs have vowed to assist those moving back onto the land.
"The City has promised to assist us with the layout of the plots and they will also provide 45 toilets. Human Settlements will also be helping us with sanitation. The Department of Home Affairs will be assisting with getting people's identity documents," he said.
This morning, Matha confirmed that residents would be moved to a different piece of land identified by SANRAL and community leaders late yesterday. "We are expecting people to move earliest on Monday or Tuesday," he said.
The Nomzamo Community Hall—where most of the families have been sheltered for the past three days—was abuzz with the sounds of people talking, babies crying and children playing until late yesterday.
At the back of the hall, resident Jamila Malanzi was lying on a mattress with her four-month-old son, Eddie, wrapped in a small blue woolen blanket.
While she was grateful for the shelter and food, Malanzi said that at night the hall got "icy cold" and became a hub of noise during the day.
"It gets a bit better everyday because at least people are bringing us clothes and food, especially for the children. It's very cold in the hall. It's not the same as sleeping in your own bed. It's raining so the children play in here. It can get very loud which I'm not used to," she said.
Malanzi said she has not been able to go to work since Monday and fears she may lose her job.
"I called my work to tell them what happened, but they still won't give me more days off. I'll probably lose my job this week. How will I get money to start over again?" she said.
"It's like we've been abandoned here. We feel so lost, we have nothing. I'm just glad the government is coming to help us. They said we going to move back to that land for now. I'm so happy for that," she said.
A few hundred metres away from the busy hall, the deserted SANRAL-owned land was still covered with broken wooden planks, charred sink sheets and other debris.

One of five shacks still standing. Photo by Barbara Maregele.
Only five homes with big red numbered marks were still in tact on the land.
Eric Jamnda, 32, who lives in one of the five shacks, said he was lonely without his neighbours.
"I don't know why my place is still standing and the others are gone. I don't want to stay here alone. My brother, two sisters, my cousin and all my friends are at the hall. I'm used to them being around me," he said.
Jamnda said he looked forward to helping his relatives rebuild their homes this weekend.
Yesterday, SANRAL officials along with relevant community leaders visited potential sites for the relocation.
Earlier, Ses'khona People's Rights organisation's Loyiso Nkohla and Andile Lille said during the meeting with Minister Sisulu, residents were informed they would be moved back as a temporary solution for the next six months.
"We want SANRAL to provide services like water, sanitation and electricity as well as proper houses on the new land," Lille said.
Nkohla said the next step was determining whether the 849 people whose homes were demolished, would be properly catered for once they move back this weekend.
During a briefing at parliament yesterday, Sisulu declared the matter a National Special Project which would be managed by the national Department of Human Settlements.
"Taking into consideration concerns raised on the timing and manner of the removal, the blame game between the City and SANRAL, I have decided to establish a Ministerial Enquiry to establish the truth," she said.
Sisulu said the newly established Ministerial Enquiry, which consists of six members, are to report back on their findings within 30 days.
"I hope their report will assist us to put together measures to make sure we do not have the same problem again anywhere in South Africa," she said.
Sisulu reiterated that the department did not "tolerate, condone or encourage" illegal occupations.
"Of concern for us was that people did not have temporary accommodation during winter and exam time," she said.
How to donate to the displaced residents of Nomzamo (Lwandle)
Several civil society organisations are managing donations to support the Lwandle community. Members of the public are requested to please donate blankets, mattresses, food, clothes, umbrellas and raincoats. These can be dropped off at The Bookery at 63-89 Plein Street in Cape Town.
© 2016 GroundUp.
This article is licensed under a
Creative Commons Attribution-NoDerivatives 4.0 International License
.