Khayelitsha teenagers off to Sweden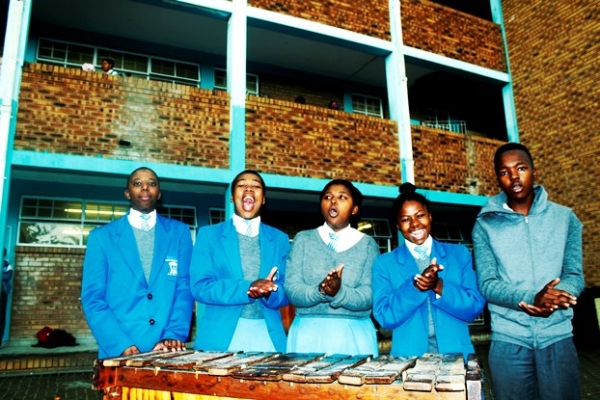 Five teenagers from Khayelitsha are preparing to embark on a journey to Sweden to take part in an international programme.
The students, who focus on music and dance at Chris Hani Secondary School, will spend two-and-a-half weeks in October in Sweden as participants in the World's Children's Prize for the Rights of the Child programme. Along with fellow student ambassadors from around the world, the students will share their experiences while participating in children's rights workshops. The program culminates in the WCP award ceremony, where the students will perform songs they wrote themselves.
The event draws participants from all over the world, including Nobel Peace Prize winners. At last year's ceremony, girls' education activist Malala Yousafzai was a recipient of the award.
The students are no strangers to the demands of performing. Many have been participating in community music and dance groups from a young age. Fifteen-year-old Unathi Makhambi, now in Grade 10, started when he was in Grade R. "I started ten years back in a group called iKhwezi, dancing and doing marimba."
Grade 11 singer and dancer Nombuyiselo Gina began performing eight years ago as part of a dance group called Buyel'ekhaya. In high school her talents were recognised by teachers and she was nominated for the programme. Singer Busiswa Zingitwa and marimba player Bonga Hatana, both in Grade 9, also began at a young age.
Grade 11 student Busisiwe Maswana had been performing umxhentso, a traditional Xhosa style of dance, long before beginning high school and recently decided to make dance her focus, convincing her mother that this was her passion in life. "I was doing pure maths and economics. But then I started realising that I have talent in dancing."
Chris Hani specializes in an arts and culture curriculum, and has been partnering with the World's Children's Prize program for four years. Principal, Madoda Mahlutshana, says the students are already seasoned performers.
"When they are on stage, you would think they are professionals," he says.
Marlene Winberg, whose son is a professional musician and helps to prepare the students, is the South African coordinator for the World's Children's Prize Foundation. She says watching the children perform during auditions moved her to tears. It was astonishing to see "such enormous talent and potential" from children who had not had access to the resources available to her own family, she says.
The students say that their families are very proud. In most cases, they will be the first of their family to travel by plane.
"They are very excited, and saying, "My surname is famous," says Busiswa.
Busisiwe says her family has been careful to instill in her the importance of respect for others. "They told me I must treat people in a good way, so that they can treat me in a good way, too."
In the songs they have created, the students address social challenges both past and present.
The first song, Ungubani wena? (Who are you?), refers to the attacks on innocents by security. The second, I was walking down the street, describes the experience of encountering a woman who is starving.
The students say songs are a vehicle for addressing problems in the community. They believe that language differences will not prevent audiences appreciating their performances,or detract from their own enjoyment of other performers. "People can be healed by music," says Busisiwe.
Mahlutshana, who was one of the principals who gave evidence on the dangers faced by students at the school to the Khayelitsha Commission, says he is keen to support the students' efforts to grapple with the challenges they and their communities face.
The process of healing through performance should be nurtured, he says, and this is especially relevant after the recent xenophobic violence. He predicts that other student ambassadors will be curious about the 'bad news in South Africa'.
While the students are confident they will be ready in time for the performance, there is one thing which no amount of practice will prepare them for: the food. "What they eat there is for vegetarians," says Busisiwe. What kinds of meals does she expect? "A green pepper. They open it and put some rice in it."
© 2016 GroundUp.
This article is licensed under a
Creative Commons Attribution-NoDerivatives 4.0 International License
.