"Don't play to make the headlines", advises Bafana Bafana's Dino Ndlovu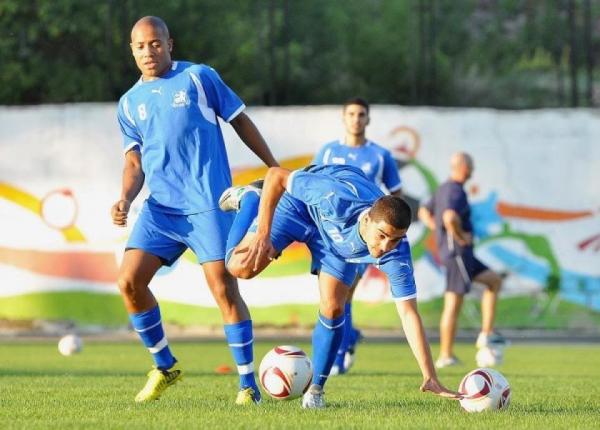 Dino Ndlovu, the 23-year-old striker from Klerksdorp, will play for Bafana Bafana on Saturday in their crucial World Cup qualifying game against the Central African Republic at the Cape Town stadium.
GroundUp: What teams have you played for?
Ndlovu: Motherwald FC, Platinum Stars, Sundowns and Celtic.
GroundUp: What challenges have you had in your soccer career?
Ndlovu: I had many challenges. Last year when I moved to Israel it was hard to adapt to the atmosphere and being in a place where you don't speak the language (Dino played for Macabbi Haifa). In that same time my baby was born and my dad passed away so it was difficult to stay focussed but I kept strong and got through it.
GroundUp: How was the season playing for Macabbi Haifa?
Ndlovu: The season was good but as a team we were struggling. I also got a injury which made me frustrated. It was in my right leg and I'm only recovering from it now.
GroundUp: Who is your role model?
Ndlovu: My mom is my role model. She has been by my side through everything. Through everything she made things look positive at the end. She made me strive for my goal in life. She motivates me that no matter what happens never give up.
GroundUp: What was it like playing for the National Team in Brazil in 2010?
Ndlovu: It was a great pleasure representing our country, when you know your family and friends are supporting you and your country.
GroundUp: What was it like living in Israel for a South African player?
Ndlovu: It has been good for me. it's no different to any player going to another country. If you are a foreigner in any country in the world you will miss your country and your family.
GroundUp: What message would you give to the youth?
Ndlovu: Work hard. Don't play to make headlines that is when you forget what you are doing but be humble and enjoy the game.
GroundUp: On Saturday you play for Bafana against Central Africa Republic. What are your thoughts?
Ndlovu: I'm ready for the match, and will play my best as it is a big game and as a team we must get the 3 points.
© 2016 GroundUp.
This article is licensed under a
Creative Commons Attribution-NoDerivatives 4.0 International License
.