Disabled Khayelitsha resident has to use neighbours' toilet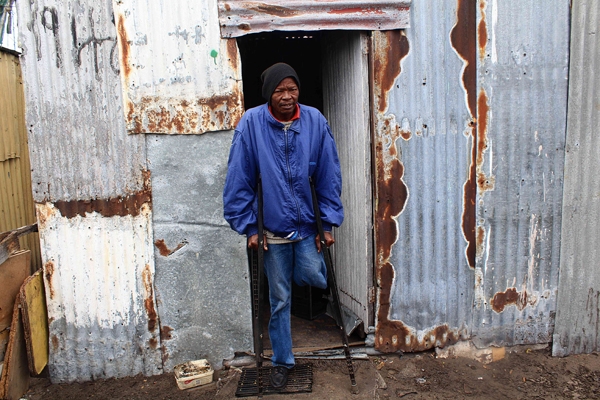 Disabled Site C resident Vincent Gaelejwe, 43, lives in a one-roomed shack and has nowhere to keep the portable toilet supplied by the City of Cape Town. Instead, he limps to his neighbour's house every day to use the portable toilet there.
Gaelejwe lost his leg due to vein illness while he was working for a packaging company a few years ago. Today he is unemployed and lives off a disability grant of R1,350 a month.
Sitting in his shack which is barely big enough for the bed he is sitting on, he explains that he was offered a portable toilet by the City of Cape Town like everyone else in the community. But he has nowhere to put it.
"When the portable toilets were supplied I was also offered one, but I cannot use it since I do not have a place where I can keep it, or money to pay someone to build it for me," says Gaelejwe.
He uses his neighbours' toilet but only once a day when they are back from work and sometimes cannot use it at all if they do not spend the night at home.
When the neighbours are out for too long, Gaelejwe limps far from his house to relieve himself on an open space. He was once attacked there just after seven in the evening.
"This one time my neighbours did not come back home and I had to go and relieve myself on an open space not far from where I stay. Two men came unexpectedly. They hit me and took my crutches, and I had to crawl about eight metres to get the crutches."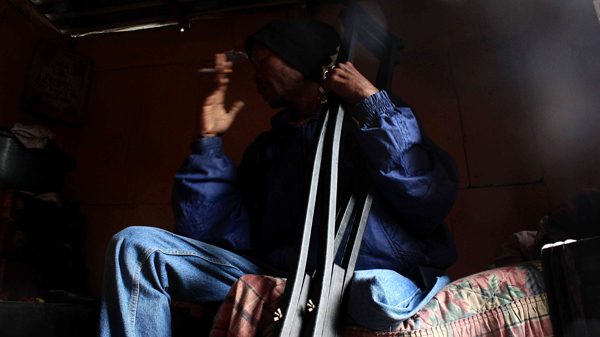 Site C residents have been supplied with portable toilets, but Vincent Gaelejwe cannot use his. Photo by Masixole Feni.
"It was really dark. I could not see their faces. I did not bother reporting it to the police because many incidents have happened where females even fall victim to rape in the area, and it is reported but nothing happens," he says.
He tried to keep his own toilet in his shack but the smell and the flies were too much for him. He could not lift the toilet to put it outside during the night to get rid of the smell in the shack.
The City, he says, is trying to help residents by supplying portable toilets. "But they are not user friendly for the disabled."
The City's Mayoral Committee Member for Utility Services, Cllr Ernest Sonnenberg explained that the City cannot build flush toilets for residents living in this area.
"A number of dwellings in this area are situated either in a wetland area or in a road/rail reserve. The City is prohibited by national legislation from installing full flush toilets in these areas," he said.
© 2016 GroundUp.
This article is licensed under a
Creative Commons Attribution-NoDerivatives 4.0 International License
.