Criminalising protest and dissent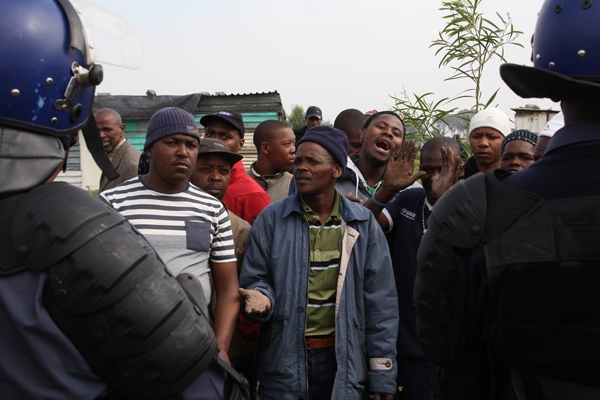 A new report by SERI profiles a community protest in Lenasia, Gauteng, and concludes that the criminal justice system was "abused" in order to intimidate activists and protesters. A look at similar cases in Cape Town seem to support this finding.
In the early hours of 14 February, shortly after President Jacob Zuma had praised the police "as the buffer between a democratic society based on the rule of law and anarchy", around a dozen police officers raided Siqalo informal settlement in Mitchell's Plain, Cape Town. The police kicked down shack doors, broke windows, assaulted people and arrested four community leaders. (Cases are open with the Independent Police Investigative Directorate.)
"They [police] said that Zuma had told them to do this. Did he really tell them that?" asked a confused Lungiswa Bashe whose shack had been trashed.
Earlier that week, the community had protested against electioneering by political parties in one of the city's most under-serviced communities — where more than a thousand unelectrified households then shared half a dozen taps. To solicit votes after ignoring countless peaceful petitions for improved services was insulting, the protesters argued. Yet, on the night of the raid, calm had been restored.
Mandisi Ngcwangu, secretary of the Siqalo residents' committee, was one of those arrested. Beaten in front of his wife and one-year-old son to the extent that he was unable to walk, the police dragged him away.
Ngcwangu claims that he was at work on the days when protesters closed Vanguard Drive with burning tyres and threw stones at the police. He suspects that his arrest was the result of the police profiling him as a community leader, and not as a result of evidence implicating him in any crime. After a week in detention, Ngcwangu and his three co-accused were released on bail. The public violence charges against them were later thrown out of court due to lack of evidence.
"We are not surprised," he said at the time. "We know that these tactics will be used to intimidate us, because we speak on behalf of the community and we protest against the government ignoring us. We were not arrested as criminals, but as leaders of the community."
"We know that these tactics will be used to intimidate us, because we speak on behalf of the community"
Ngcawangu's opinion that, in South Africa, arrest, detention and criminal charges can be a smokescreen for political repression is shared by researcher Michael Clark of the Socio-Economic Rights Institute (SERI).
In a report, launched by SERI on Tuesday, Clark points to emerging trends in the states' quashing of popular dissent: the criminalisation of protest, increased police brutality, arrest, prosecution and lengthy detention of activists.
An Anatomy of Dissent & Repression uses the case study of community protests in Lenasia's Thembelihle informal settlement in September 2011 to illustrate how criminal charges are brought against protesters on "little or no substantial evidence".
Court proceedings are manipulated and "excessively delayed" to prolong the detention of activists and to intimidate their supporters. The police and courts are used to protect the state against dissent under the guise of upholding "the rule of law", Clark concludes.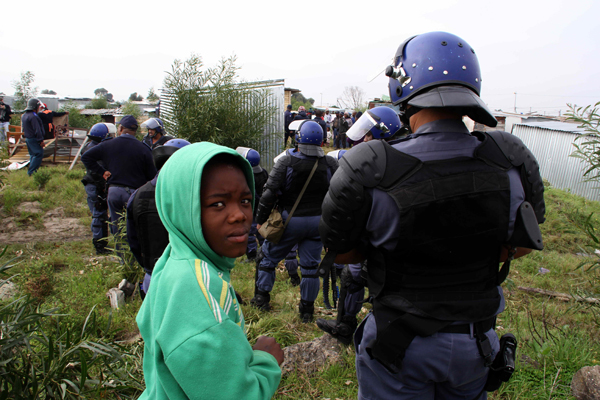 A boy watches as police move in on the Marikana informal settlement, Philippi East, Cape Town. 11 August 2014. Photo by Daneel Knoetze.
Bhayiza Miya, a Thembelihle community leader arrested during the community's week of protest, spoke at Tuesday's launch. His experience of bail denied, detention for six weeks, and months of postponed court proceedings is discussed in the report. The case against him was eventually thrown out.
"The decision to prosecute me was clearly political and coming from elsewhere," said Miya on Tuesday. "If it was not for [support from SERI's lawyers] I would still be in prison right now. That's why we need others to fight this struggle with us."
Twelve men, arrested and charged with public violence and other crimes while protesting against evictions in an informal settlement in Philippi East, Cape Town, are currently in need of such help. Since their arrest on 22 August, and to the dismay of their families, bail proceedings have been postponed twice — leaving them to languish in Pollsmoor Prison.
A query to the National Prosecuting Authority confirmed that the state would oppose bail when the matter is heard at Athlone Magistrates Court on Friday due to the "seriousness of the offences". Queries about the identities of- and charges against the detainees went unanswered.
Clark points to a growing trend towards the "criminalisation of protest" since dissent over poor services and maladministered and unresponsive municipalities increased in 2004. Local government and police "misapply and manipulate" the legal rules for participating in protest to "stifle legitimate expressions of public discontent", the report reads.
Public Order Police meet protesters with disproportionate force and escalate the violence, while ignoring legal requirements that emphasise the need to maintain peace. During the Philippi East evictions, for instance, police used live ammunition to disperse protesters.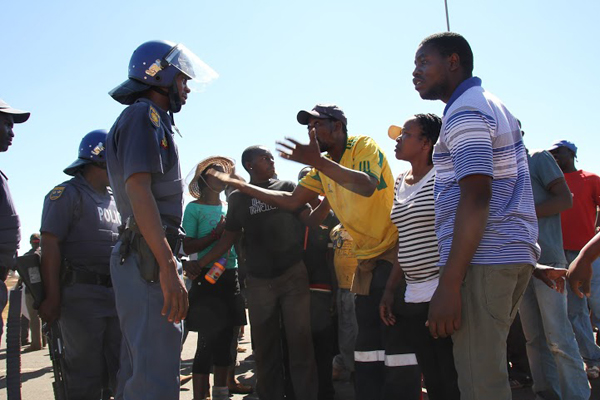 Thembelihle residents and police in an exchange during protests in the informal settlement near Lenasia in September 2011. In a new report, SERI have used the protests as a case study to show how the state abuses the criminal justice system to silence and intimidate activists. Photo by Phillip de Wet.
The report further speaks of "blurring lines" in public discourse between community mobilisation and criminality.
Such "criminalisation and vilification" was present in Zuma's disdain for popular protests and for those who "glorify anarchy" in his State of the Nation address.
It is a thread that also runs through press statements from the City of Cape Town's Safety and Security portfolio in recent years. JP Smith, the portfolio's Mayco member, for instance motivated for the mass arrest of the Philippi East land occupiers, some of country's poorest urban dwellers.
While the eruption of violence is often the basis for arresting and charging protesters, the criminalisation of protests extends to peaceful gatherings as well.
The Regulation of Gatherings Act draws distinctions between lawful and unlawful protests. In Tembilihle, the police declared the gathering "illegal" because protesters had not given seven days' notice, a requirement of the Act.
The City of Cape Town's policy for marches and gatherings has taken the interpretation of this section of the Act further, requiring marchers to apply for a 'permit' before they can gather. On the first day of a trial involving 21 Social Justice Coalition (SJC) activists in July, City official Noel da Silva admitted under cross examination that the policy was not supported by law.
The activists, charged variously with convening and attending an unlawful gathering, were arrested in September 2013 after forming a human chain in a protest outside Mayor Patricia de Lille's office. The protest was over "broken promises" by the Mayor in the implementation of janitorial services for toilets in Khayelitsha. The trial resumes on 8 October.
In their defence, the activists will challenge the constitutionality of the charges against them. In her founding affidavit SJC general secretary Phumeza Mlungwana stresses that the constitutional challenge "is not against the legal requirement to give notice of a gathering, (but rather) against the criminalisation of the failure to (do so)".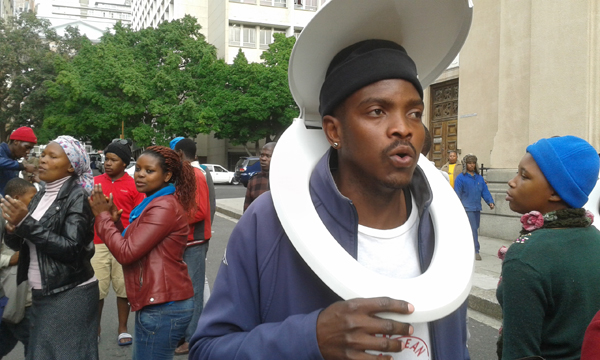 SJC activist Luthando Tokota outside the Cape Town Magistrates' Court today. He and 20 others are standing trial for unlawfully convening and attending a protest at the Civic Centre in September last year. Photo by Daneel Knoetze.
The SJC's accompanying statement explains further:
"(The state's enforcement of the Act) makes criminals of people who, like us, were merely exercising their democratic right to protest. The existence of such a severe limitation will inevitably prevent people from engaging in legitimate forms of protest."
While broader legal and constitutional debates are important, Miya's advocacy emphasises the immediacy of this "abuse" of the criminal justice system for those in lengthy detention as they await bail hearings. In an interview with GroundUp on Wednesday he expressed solidarity with the detained Philippi East protesters.
"From my experience I know that those men are going through a psychologically painful time," he said, recalling his own experience of detention without bail.
"What was the worst for me was sitting in that cell, removed from my two daughters, when I knew that there was no evidence against me. My arrest was political. This is standard - when protests turn violent the police just shoot and arrest randomly. Sometimes, like in my case, they come for community leaders. Other times they just snatch anyone who they can get their hands on. It is just done to intimidate and silence people. We must stand with those twelve comrades, because if there was no one to stand with me I'd still be rotting away in a cell today."
Nontembiso Ngcwangu speaks of police beating and arresting her husband, Siqalo community leader Mandisi Ngcwangu. (Video: Timothy Gabb; Interview: Daneel Knoetze)
© 2016 GroundUp.
This article is licensed under a
Creative Commons Attribution-NoDerivatives 4.0 International License
.