Councillor must fall, say King William's Town protesters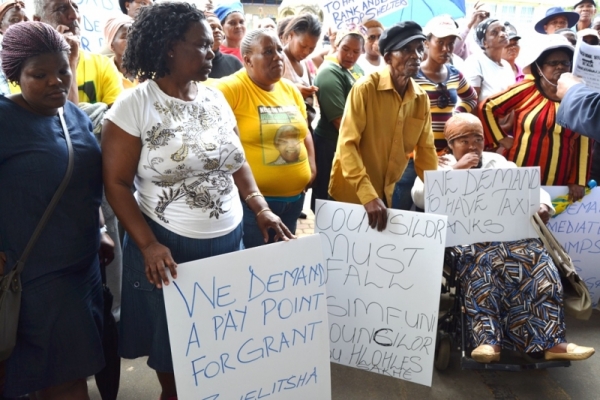 Wheelchair-bound Leilanie Boswell, 38, was one of about 100 Sweetwaters residents who protested yesterday outside the Buffalo City municipality offices in King William's Town, demanding housing, street lights, a taxi rank and other amenities.
Residents also called for the resignation of ward councillor Leon Mentoor and the ward committee.
Residents accuse Mentoor and the committee of failing to attend public meetings and of not paying attention to Sweetwaters'.
The march was led by the Human Rights Centre in King William's Town.
Among residents' demands were:
Adequate housing, reconstruction of existing structures and new housing development
Regravelling and upgrading of roads for buses and taxis to use
Alternative accommodation for victims of eviction
Street lights
Upgrading of a primary school from prefabs to bricks and mortar
A taxi rank
Local clinic to open 24 hours and security to be provided for the clinic
A pay point for grant recipients in Sweetwaters as the pay point in Zwelitsha is 10km away and people are being robbed on their way home from the pay point.
The memorandum was addressed to Buffalo City mayor Alfred Mtsi.
Residents shouted at city officials who wanted to accept the memorandum on Mtsi's behalf.
"Call Mtsi now," they shouted.
The memorandum was handed over to city manager Wongeziwe Goba, who promised to hand it over to Mtsi.
Community leader Xhantilomzi Mbi said residents were tired of empty promises and wanted action to be taken against the ward councillor who did not work for the people.
"Our community is neglected. There are no businesses, roads have potholes, and most streetlights are not working. We even pay money in order to use our community hall. I don't know when last I saw the ward councillor in our area. He does not care about us. This is a peaceful march, but we don't know what is going to happen if our demands are not addressed.
"This is a start and we will continue until we are heard," Mbi said.
Matshaya Maki of the Human Rights Centre told GroundUp that several people had come to his office complaining about being evicted from their homes and having nowhere to go.
"That has to stop. Evicted people must be given alternative places to stay," he said.
Boswell said the house the municipality had provided for her was not suitable. The house is one and a half hours' walk from the town centre, and does not have adequate wheelchair access.
Mentoor denied accusations that he had neglected the area.
"We just built new RDP houses in that area. The problem is that there's no more land to build more houses. I understand that people are frustrated and demand houses, but there's a process that needs to be followed," said Mentoor.
He said he was attending to Boswell's complaint and her home would be fixed up.
"I'm with the department of housing now," he said.
© 2016 GroundUp.

This article is licensed under a Creative Commons Attribution-NoDerivatives 4.0 International License.